Join Date: Feb 2010
Posts: 5
Mentioned: 0 Post(s)
Tagged: 0 Thread(s)
Quoted: 0 Post(s)
(Thread Starter)
Newb Here! 87 300d questions
---
Hey guys! I'm looking at picking up a 87 300D wagon off a friend of mine. The car currently has 626 000km on it. I have owned nothing but late 80's turbocharged dodges for the past 5 years so I am no stranger to working on cars
. What should I be looking for as far as problem areas with these cars? I have been told that these old diesels are known to roll the odometer with little trouble and are pretty bulletproof. Also what can I do performance wise and still keep th car reliable. With my old dodges all you need is a decent intercooler and a boost controller and you can easily gain an extra 30-40hp does the same go for the old turbo diesels? Lastly what are the towing capabilities of the diesels? I am in a band and plan to pull a small trailer full of gear with it. Thanks in advance for the help!
Administrator
Join Date: Jun 2009
Vehicle: 1993 SL500, 1998 SL500 pano top, 2005 ML270cdi.
Location: Spain and Gibraltar
Posts: 840
Mentioned: 1 Post(s)
Tagged: 0 Thread(s)
Quoted: 28 Post(s)
As you very well point out these MB diesels are pretty much bulletproof even when abused.
If you are buying from a friend then he should be the guarantee the car is sound.
The more Kms. or miles covered does have an effect on the reliability of the car, so just check for steering joints, prop shaft joints, suspension etc.
As an old bass player myself, If you are pulling a band trailer I wouldn't worry too much about improving the output of the car, but fitting out the sleeping arrangements in the trailer
Join Date: Feb 2010
Posts: 5
Mentioned: 0 Post(s)
Tagged: 0 Thread(s)
Quoted: 0 Post(s)
(Thread Starter)
Thanks for the quick response! I'm not to worried about steering components, ball joints etc as I expect to have to replace wear and tear stuff like that. My question was more toward the drive train of the car motor,trans etc. If it were strictly being used as a band wagon I wouldn't worry about performance either but it is also going to be my daily driver. My current DD is an old turbo dodge shadow that has around 200hp I'm just not sure if I can handle driving a car everyday with 70 less hp and an extra 600-700lbs lol How much boost do these turbo's put out from th factory? And what is the max the internals can handle in stock form?
---
Last edited by boost_creep; 02-07-2010 at

05:46 PM

.
Moderator
Join Date: Oct 2004
Vehicle: '87 300TD 24v & '90 300D 2.5t
Location: Cascadia
Posts: 154
Mentioned: 0 Post(s)
Tagged: 0 Thread(s)
Quoted: 0 Post(s)
I also have an '87 300TD. These are great cars, and the engines can provide many years/miles of service with few major issues. You'll want to ensure that the cooling system is in tip-top condition if you're gonna be placing extra stress on it by doing such things as towing. These early OM603 engines were prone to developing head cracks when stressed beyond their limits. Also, the automatic transmissions have a lifespan of somewhere between 130k and 180k, so factor that in, as well.

As for power, well these things can seriously produce if you're willing to spend some time/$ at it. With the stock injection pump, you can bump the full load screw to increase power from the stock output of 148hp to somewhere around 180hp. I did this on my original OM603 and then further bumped things to somewhere around 200hp with the addition of propane injection. Of course, I also added a pyrometer and an intercooler, just to be on the safe side. With diesels, an intercooler just adds a safety factor, and no direct power benefit whatsoever. The tuners in Finland have produced power outputs in the 400hp to 450hp levels with the stock OM603 longblock. They increase the size of the plunger/barrels inside the injection pumps, add a large turbo and then an even larger intercooler for that kind of boost.
---

To view links or images in signatures your post count must be 10 or greater. You currently have 0 posts.

Join Date: Feb 2010
Posts: 5
Mentioned: 0 Post(s)
Tagged: 0 Thread(s)
Quoted: 0 Post(s)
(Thread Starter)
Thanks a lot for the info guys! I just got back from seeing the car in person and I'm really impressed. It had not been started in 3 weeks and has been sitting outside in the nice Canadian winter. One crank and it turned over no problem!. It has a few little issues rear window won't go down ( I would assume it's the motor or maybe just the switch) and a couple other silly things like that but other then that for a 600 000 +km car it is outstanding very little rust, drives very smooth,trans feels great. I think I am going to purchase it sometime this week. Zeitgeist: How much boost did it take you to get the 180hp mark? Did you just put in a manual boost controller or are the stock wast gates adjustable? I have oodles of turbo parts laying around intercoolers,turbo's etc. Is there a stock intercooler set up out of some other vehicle that bolts up nicely or am I better off going after market? Also your wagon looks awesome! What did you do to lower it? I would love my wagon to have that stance! Heres a pic of my wagon to be!
[IMG]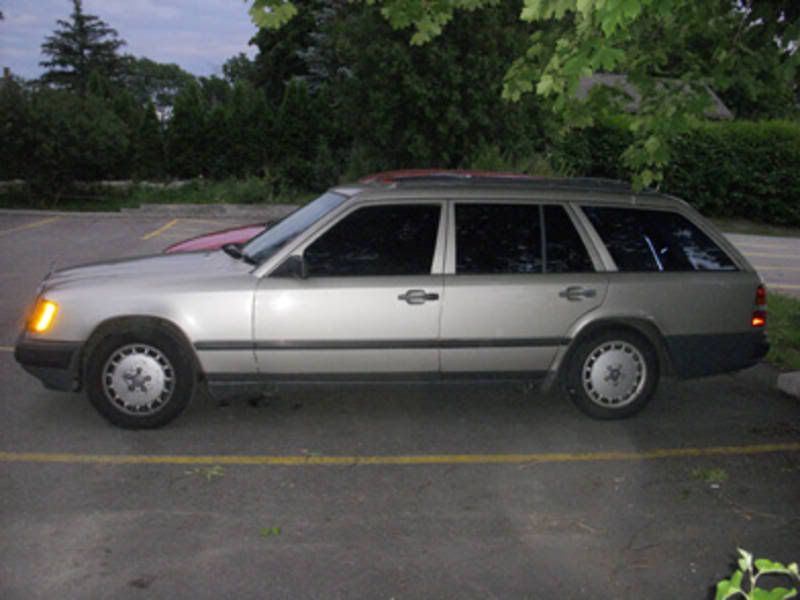 [/IMG]
Currently Active Users Viewing This Thread: 1

(0 members and 1 guests)
Posting Rules

You may not post new threads

You may not post replies

You may not post attachments

You may not edit your posts

---

HTML code is Off

---